Appraisals
Gardner Galleries have accredited appraisers with The Canadian Association of Personal Property Appraisers on staff to conduct appraisals for fair market value and estate purposes
Types of Appraisals
Estate appraisals for probate purposes are conducted for estate executors, law firms & trust companies in London and surrounding area.  An estate appraisal is a legal document that determines the fair market value of property, usually to complete probate and/or settle a will.
An appraisal for fair market value is the value of an item based on the sales comparison approach, and is defined as the price that would change hands between a willing and informed buyer and seller.  Auction sale records are a key factor in determining an item's true value in the most relevant and open market.    
Please note Gardner Galleries no longer conduct divorce or separation appraisals.
Determining Value
With the click of a button, you can instantly see what your item is worth by searching online, right? This is usually not the case and do not be fooled by the "asking price" of an item, as these prices are usually inflated.  Gardner Galleries accredited appraisers have nearly 100 years of combined experience in the auction industry, and sell more than 50,000 items annually including fine art, jewellery, coins, china, porcelain, bronzes, antiquarian books, Persian rugs, sterling silver, sports memorabilia and furniture spanning from the 1700's to the present day.  Gardner's also have a close network of art and antique dealers across the country and subscribe to online databases that reflect the true sale price of an item.  The market is always changing and an item's value may have increased or decreased exponentially in the span of only a few years. Our appraisers follow these market trends closely.  
Appraisal Cost
For a professional written appraisal, our fee is $300.00/hour plus HST with a one hour minimum.  If located outside of London, a mileage charge of $0.60 per kilometer is added (no HST on mileage).  If a visit to your residence is not possible, photographs can also be emailed and a signed copy of the appraisal will be sent to you.  Please contact our office for more information regarding these services and note cancellations for any appraisal must be made at least 24 hours in advance.
Free Auction Estimates
For those interested in selling at auction, Gardner Galleries will offer a free estimate based on images you email to info@gardnergalleries.com.  If sending multiple items, our appraisers will provide an estimate of total value for the entire collection.  If you require values for each individual item, this is regarded as an appraisal and there is a charge for this service (see above).
Gardner Galleries will not offer free estimates to assist with selling items on Kijiji or Facebook Marketplace.  
Visit to Your Home  
If you are considering selling an entire estate or household with Gardner Galleries and are located in London and area, or are downsizing and have too many items to photograph, a free visit to your home can be arranged by contacting our office.  Our appraisers will offer a general overview, including an estimate of total value and the costs involved to handle the auction.  If located outside of the greater London area, we require photographs or a detailed listing prior to sending a representative to your residence.  If you only have a few items to sell, ie. 10 items or less, please send images by email.  
For more information regarding any of the above, please contact our office at info@gardnergalleries.com or 519-439-3333.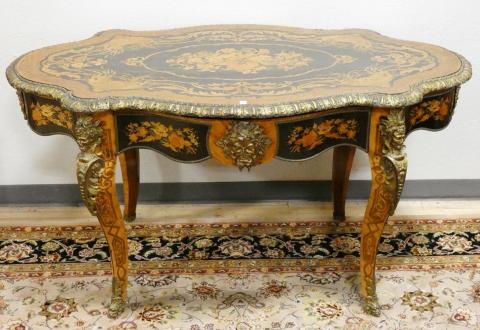 Antique centre table circa 1850 - Sold: $2,900.00, January, 2020