HOW TO BUY
Online Bidder Registration
The first step is to complete our online registration form and submit your information, including full name, mailing address, telephone number and email address through Gardner Galleries secure website.  You must also read and accept our terms & conditions of sale.  If new to Gardner Galleries and registering for the first time, you will receive an email requesting a valid credit card for pre-authorization purposes (note: a pre-authorization is not a charge and no funds will be debited from your account).  New bidders located outside of Ontario may be asked to supply additional information, such as valid photo identification and a bank reference.  Once your identity is confirmed, your account will be activated and you will be provided with an online bidder number which is used to track your purchases.  You are now ready to join over 30,000 registered bidders in weekly online auctions of jewellery, art, furniture, collectibles and more.  You can also cancel your online account anytime, simply by contacting us.
Absentee Bidding
For those uncomfortable with online bidding, Gardner Galleries will bid on their behalf by filling out an absentee bid form in person.  Arrangements should be made as early as possible and Gardner Galleries will not be held responsible for failure to execute absentee bids.
Bidding Online
To bid online:
Be sure you are logged in and are a registered bidder
Click on the auction of interest and scroll down using "grid" or "list" views
Before bidding:

Review the terms & conditions of sale and advertised buyer's premium 
Confirm the start and end date of the auction and please note that ALL ITEMS IN THE AUCTION END AT THE SAME TIME, unless a bid is entered with less than 5 minutes left (see Soft Closing Auction Clock below)
Carefully read the description of the lot, including size and condition
Use the "enlarge" and "download" features to expand the image size
Confirm your pick-up and shipping options; if the item is too large to ship or you are unsure it will fit in your vehicle, contact us
Understand you are entering a legal contract with Gardner Galleries to purchase the item you are bidding on

Place at least the next minimum (see bidding increments below) or your MAXIMUM bid, make sure the bid amount was entered correctly and CONFIRM your bid - please do not use dollar signs or decimals, just place the number (ie. if bidding ten dollars, place "10") 

Once your bid is confirmed, it cannot be cancelled and you are agreeing to pay the bid price, plus buyer's premium and tax
Your bid will be automatically entered at the lowest bid available and will automatically increase up to your maximum when other bidding takes place
If bidding on multiple items, it is recommended to use "Bid History" or "Watch List", located by clicking "My Account" and follow the drop down menu

Soft Closing Auction Clock

Auction closing times automatically adjust as necessary per lot, if bidding takes place within the last five minutes - as an example, if a bid is entered on an item with only two minutes left in the auction, an extension is added and the clock will reset to five minutes for that particular lot only until bidding has ended.  This allows the under bidder a fair chance to bid again
Gardner Galleries strongly suggest placing your maximum bid and do not wait until the last second as internal clocks for computers and devices may differ

Refresh the Auction Page

You must have an account and be logged in to view bidding in real time
If you are outbid, an outbid notice will be sent to your email on file. Depending on your email service provider, this method is not infallible and not to be relied upon 
If you decide to log out, the auction pages only refresh every 5 minutes or more depending on your internet browser and you may miss out on the action!  It is encouraged to stay logged in. 
It is not recommended to wait until the last few seconds to bid but if this is your preferred strategy, use the refresh button to ensure there is ample time left on the clock

End of Auction

Once the auction is over, check your "Bid History" by clicking "My Account" - this feature will show all items you bid on, and whether you were successful or outbid
You will receive an invoice by email within one hour after the auction closes, showing the total amount owing including buyer's premium and applicable tax
Payment must be made in full and items collected within one week after the auction (see below)
The pick-up location is always Gardner Galleries (407 Hamilton Road, London) unless mentioned otherwise in the auction description
Minimum Bidding Increments:
    Bid Price:                            Increments: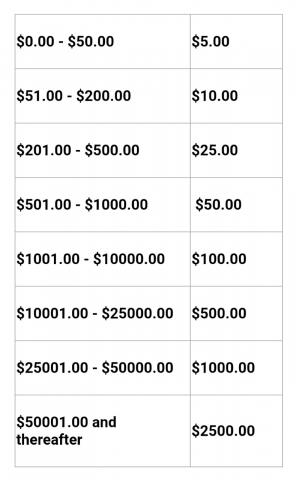 *Note: You can place your "maximum bid" at any time during an online auction over the next minimum bid increment.  
Viewing & Condition Reports
All items offered for sale are available for viewing in advance, by appointment.  We encourage anyone interested in buying to attend the viewing, examine items in person and confirm size and condition.  Our staff is also available during viewing times to assist and answer questions.  Condition reports are also available by telelphone or email but please remember when bidding, every item is sold "as is".  
Payment, Buyer's Premium & Taxes
You will receive an email notification and invoice within one hour after the online auction closes to your registered email on file.  The advertised buyer's premium and HST (13%) is added to the purchase price unless tax exemption is applicable and all sales are in Canadian dollars.  Payment must be made within one week (7 days) by cash, debit, certified cheque, bank draft, Visa, MasterCard and e-Transfer, either in person at Gardner Galleries, by telephone or by email.  A 2% discount on buyer's premium will apply if paying by cash, debit, certified cheque or bank draft only, within one week after the auction.  We do not offer the discount on other payment methods, such as e-Transfer. 
If you are located outside of London and paying by credit card over the phone, please call 519-439-3333 during business hours; if paying by e-Transfer, contact our office for payment instructions once your invoice is received.  For purchases of high-value, wire transfer is also accepted and items released once the transfer has been received.
Collection of Purchases and Shipping
The pick-up location is always the Gardner Galleries store location (407 Hamilton Road, London, ON, N5Z 1R8), unless mentioned otherwise in the auction description and office hours for pick-up are Monday-Friday from 8:30am to 5:00pm and Saturday from 10:00am to noon hour.  Free parking and loading is available at the rear of building and Gardner's staff are available to assist with loading heavier items, such as furniture.    
If you live outside of London and are unable to pick-up your purchases during business hours, Gardner Galleries will pack and ship small purchases (ie. jewellery or small paintings) via Canada Post; a surcharge for packing/handling of at least $20.00 + HST will be added and please allow up to two weeks for items to be packaged and shipped.  Items which take more time for packing will be charged a higher rate and it is always advised to contact Gardner Galleries for a shipping quote prior to bidding.  If you wish to have purchases shipped through another service, please let a representative know beforehand.  Gardner Galleries will not ship large items, such as furniture, but may be able to arrange delivery from Windsor to Toronto.  It is encouraged to contact our office for a free estimate prior to bidding, as the cost of shipping may exceed the selling price of an item. 
If you are able to pick up your purchases but live outside of London and cannot arrive within one week after the auction, please let our office know beforehand as storage charges ($25.00/week + HST per item) will apply.  If items are not paid within the specified time frame and no contact from the purchaser has been made, items will be re-sold or disposed of and your account will be permanently blocked from future bidding.  Please read the terms & conditions of sale section for more information.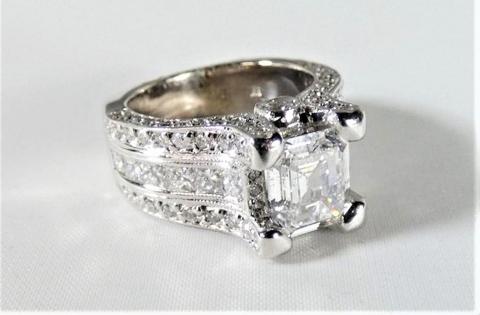 Vintage diamond ring - Sold: $16,000.00, November, 2019