HOW TO SELL
Consignment
The Gardner Galleries team work closely with estate executors, trust companies, law firms, business owners and the general public to provide the highest level of professional service in the dispersal of estate chattels, from a single item to an entire household.  Gardner's also accept items from downsizing and the disposal of collections in almost all fields of interest.  
Items are sold on consignment and Gardner Galleries strive to obtain the best results, using the online auction format to expose items for sale to the largest and most appropriate audience.  Weekly online auctions feature specialized offerings and estate items, including fine art, jewellery, coins, silver, antiquarian books, vintage toys, antique and modern furniture, Persian rugs, bronzes, figurines & more.  In some cases, an online onsite auction may be the preferred method where items are sold directly from the owner's residence, always bearing in mind what is best for both consignors and purchasers. 
Gardner Galleries also have accredited members with The Canadian Association of Personal Property Appraisers on staff for conducting certified appraisals.  Their knowledge is based on nearly 100 years of combined experience in the auction industry, today conducting 150 auctions per year with over 50,000 lots sold annually.  Gardner's is also the preferred choice for most trust companies and estate solicitors throughout Southwestern Ontario, for both auction and appraisal services, including TD Canada Trust, Royal Trust, Scotia Trust, BMO Trust, Oak Trust, MD Management Limited and the Public Guardian & Trustee.
A major sale showcased how our firm makes every effort to achieve the best results for clients: Grant Gardner found a book hidden in the back of a closet for an estate with no immediate family and after weeks of research, realized that the market for the book was perhaps two to five prospective buyers in Australia.  By skillful marketing in both Australia and the U.K. and promotion on our website for several weeks in advance, the Captain James Wallis book was sold for $1,800,000.00, instead of a few hundred dollars if it had only been promoted locally.
Acceptance of Items 
Photographs are acceptable for the purpose of pre-auction estimates and whether the items are suitable for auction (email images to info@gardnergalleries.com).  A representative will contact you within 48 hours once photographs are received.  If you wish to send photographs by text, please contact our office for instructions.  For estates or most of the contents of a home in London and surrounding area, free visits to the residence can be arranged for a general overview and estimate of total value.  If located outside of the greater London area, we require photographs of household contents prior to sending a representative.
Free auction estimates are also provided in person by making an appointment with one of our appraisers.  Prospective consignors are encouraged to have a representative give an idea of value, as our knowledge of the auction market can provide insight into what results might be expected and if the items will be accepted for auction.  
Unfortunately, Gardner Galleries no longer accept small consignments with a total value of less than $3,000.00 and will not accept any leftover items that have been offered for private sale or through online platforms such as Kijiji.
Commission Rates & Reserves
Our selling commission includes everything except cartage.  Unlike many other auction houses, there is no extra charge for photography, insurance, cataloguing and advertising.  All items are insured during transportation and when on our premises.  
Commission rates are dependent on the quality and quantity of goods to be consigned: The standard selling rate is 25%; cases where the overall quality is above average may result in a lower rate and when of low quality, a higher rate or refusal of the consignment.  Our current minimum consignment value is $3000.00.   
Gardner Galleries rarely accept reserves.  In some cases, the auctioneers will agree to a reserve or minimum to protect a very valuable item such as an important painting.  The reserve price will always be less than our pre-auction low estimate.  If the item does not sell, a cataloguing charge of $25.00 + HST per lot applies.  Reserves are never accepted on furniture, pianos or items with an estimated value of less than $1,000.00.  However, Gardner's will use discretion as most responsible auction houses do in handling consigned goods.  As an example, if an item has a pre-auction estimate of $500.00, it will have a higher starting bid and will not be sold for $50.00. 
Consignment Drop-off & Moving Services
Once items have been approved for auction, business hours for receiving consignments are by appointment on Wednesday, Thursday and Friday from 8:30am to 5:00pm.  The loading area is located in the parking lot directly behind 407 Hamilton Road in London, with easy access off Rectory Street.  There is always staff available to assist in moving heavier items, such as furniture.  A consignment contract listing your items will be presented to you at this time, which you will be asked to sign and date. Once consigned for auction, items cannot be withdrawn without the mutual consent of Gardner Galleries.        
As part of our goal to provide exceptional customer service throughout the entire auction process, we can arrange moving services on behalf of the consignor.  For individual items and small consignments, we may provide our own moving van and staff for a minimal fee.  For large estates and households, we work with several local cartage agents and the cost of this service is always disclosed prior to any arrangement.  The standard rate for most professional cartage companies in the London area is currently $150.00/hour + HST.  
When cartage has been agreed upon between the consignor and Gardner Galleries, removal of the items can then be scheduled.  Items delivered to Gardner Galleries are processed by our staff, who will label every item and safely move into our storage area prior to the auction. 
Advertising
Once items have been catalogued and photographed for auction, they will be promoted on this website prior to the auction start date.  Items are viewed by over 30,000 registered bidders across Canada and worldwide, in addition to a weekly online newsletter with 10,000+ subscribers. Gardner Galleries may also post items for sale on social media including Facebook and Instagram, artprice.com, mutualart.com, Google Ads and in some cases printed media and radio.  For highly unique items in specialized fields, Gardner's will reach out to collectors and institutions directly to inform them of the upcoming auction.
Unlike many auction houses, Gardner's is also open to the public for in-person viewing which attracts hundreds of interested buyers through our doors each week.
The Auction & Payment
Online auctions typically run for 10 days, beginning on a Friday and ending the following Monday.  This method has proven successful as it provides clients extra time to research and view items in person.  It also allows customers worldwide to find items for sale through online search engines, such as Google. Our website is very user friendly and easy to navigate, consignors can follow along and watch their items sell.
Once the auction concludes, payment is processed by cheque within thirty (30) days and mailed to the consignors address on file unless other arrangements have been made.  Consignors will also receive a detailed computerized printout of the results, including an itemized list of every lot sold.  The entire payment process is securely handled by Gardner Galleries alone, and consignors personal information is kept safe from loss or unauthorized use.
Visit our Past Auctions page to view past sales and prices realized from the past year.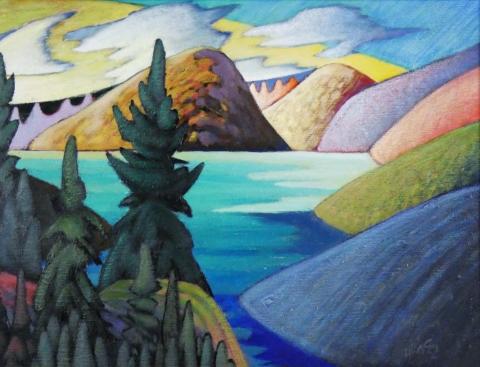 James Hergel acrylic on board - Sold: $2850.00, August, 2019